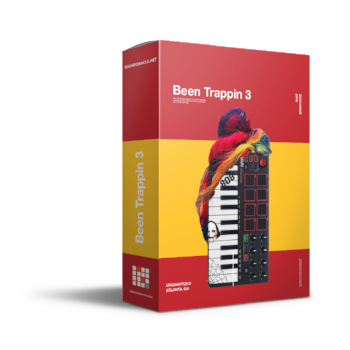 NEW KIT: Been Trappin 3 (UnQuantized)
By popular demand, fresh out the pot, TheProducerKit and SoundOracle.Net presents to you the follow up kit you've all been waiting for, BEEN TRAPPIN III. We've been in the kitchen whippin and It's time to get the trap boomin!

The third installment of the Been Trappin series, Been Trappin III is a definite cheat code to creating modern trap beats. From the quality product that you've learned to know and love, Sound Oracle and Triza have stepped into the Unquantized lab once again and cooked up some heat. Crafted with the same hands that have touched multiple top 40 hits from some of your favorite artists, Been Trappin III is a carefully detailed and unique collection of industry-ready sounds ready to take your production to the next level. Packed with bouncing melodies, exclusive one-shots and exploding 808's, this kit is sure to have your creativity jumping out the bando.
 

BEEN TRAPPIN 3 (UnQuantized)
Full Product Review
Inside the wrapper you will find that all sounds and melodies come in wav format and are Royalty-Free. We all know that time is money, why waste either on recycled, resampled sounds from songs you've heard on the radio? From the hand-crafted snares to the custom-built 808's, all 107 audio files were methodically created from scratch and molded for this kit. Each melody loop has been carefully labeled with the BPM and key, just waiting to be looped, chopped, pitched, and rearranged in your favorite DAW. Don't let beat block hold you back any longer, it's time to get inspired and beat the block down. Let's take it to the trap.

SoundOracle (Chief Sound Designer for Timbaland, whose sounds have been heard in over 20 Grammy award-winning songs by artists like Drake, Jay Z, Beyoncé, Justin Timberlake, Chris Brown, and more)

Triza (Producer for Chris Brown, Justin Bieber, Rico Love, Sean Kingston. Sounds From Triza & TheProducerKit have been used on songs by Swae Lee, Post Malone, and Chris Brown)
 
107 Sounds (Melody Loops, 808's, and One-Shots)

Available for Instant Download

Compatible with all DAWs (Ableton, FL Studio, Logic, Reason, and more)

Compatible with all Hardware and Software Samplers (Maschine, MPC, etc.)

All Sounds are Royalty-Free and are in WAV Format
Related Post