5 Keys to Improve your Social Media Presence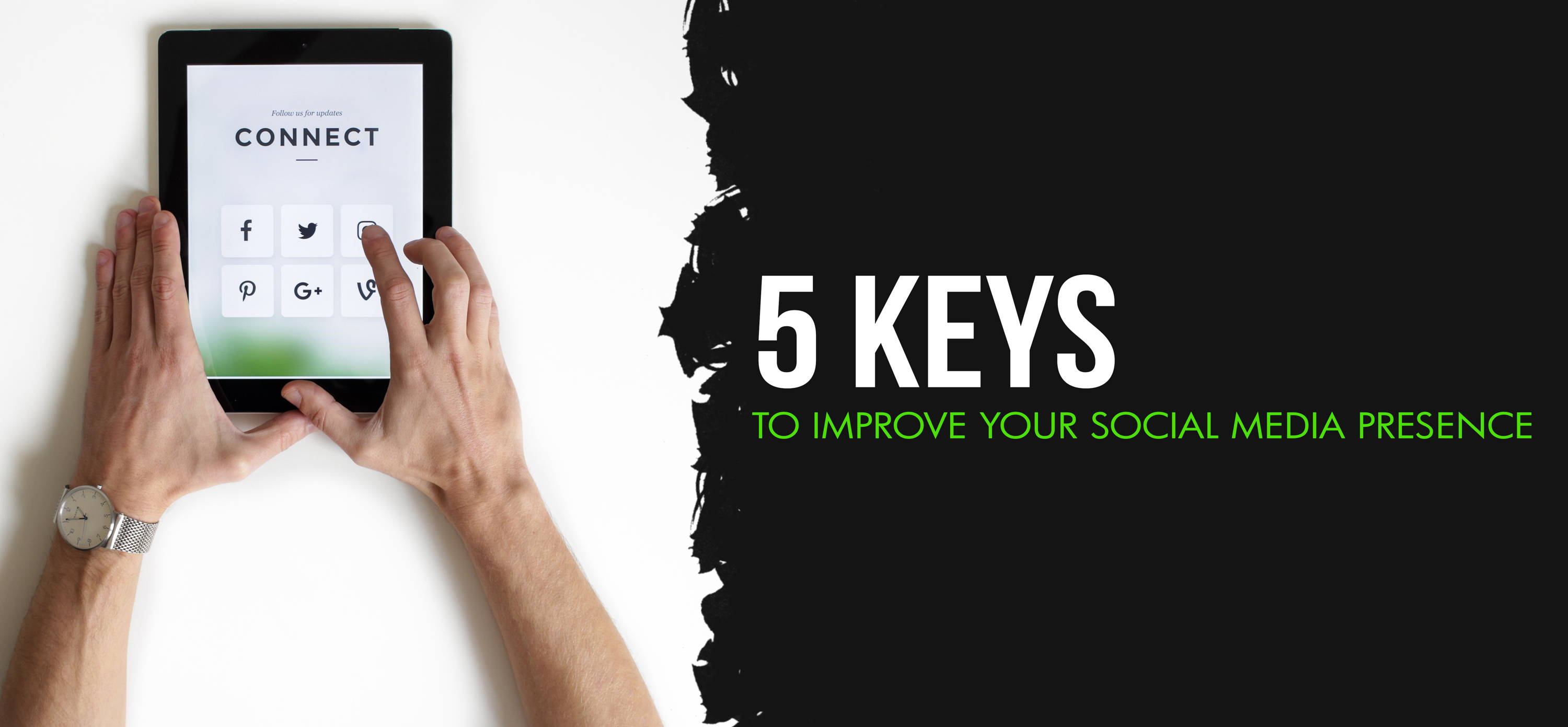 Social media is an area most artists, producers and brands can improve on, including myself.

Social media is key to connecting with your fans on a semi-personal level and a very powerful way of sharing your thoughts, your appreciation and most importantly your art.

Tapping into these platforms is a way most artists, producers and brands can build a massive following.

In today's world, having a strong social media presence is critical to your success. You're creating a gateway to connecting with your fans. Not only that, but you're also allowing access to key players in the industry who are looking for the next wave of artistry.

So, you may be saying to yourself, I've been posting and promoting my brand but how can I harness the power of these platforms to propel my personal brand to the success I seek to attain?

There are a ton of blogs and videos out there that will provide you with this information. But for this blog, I want to share with you the 5 things that I feel you can do right now to start killing it on social media.
This is an obvious one. I am a huge fan of many brands and one thing that gets me excited and draws me in are brands that post relevant and intriguing content in a unique and creative way. In this digital age, its important to post high-quality content that's both interactive and engaging. Posts like these will help you cut through and land a spot in the forefront of all the clutter on social media.
Authenticity on social media means to be believable or credible but these words are somewhat arguable though. When we say authentic, we mean you should be real, honest and genuine with yourself and your followers. Being authentic with your audience provides them with a level of trust and transparency/openness. Trust and transparency are two characteristics that attract people and keep them wanting to come back for more.
Building a community around your brand is great way to get your fans to connect with one another. Giving your fans an outlet to where they can share their common interests and ideas stimulate connectivity and companionship. Think of it this way, building a community is much like creating a street team for your brand. Those loyal followers who are a part of your community will help spread awareness for your music and art.
Capitalize on the Fundamentals
Artist/Brands with well known social media accounts clearly know the ins and outs of each platform and how to use them. They especially take advantage of features like, Instagram stories or IGTV. In order to maximize your chances of gaining real followers It's important to make the most out of the tools each social media platform has to offer. Not only that, but take the time to learn the differences of each platform, learn about your target market, define your audience and redefine your audience over time. A quick and easy way to learn about your audience is to search hashtags (#) you think your audience would use, start following, liking and commenting on content that relates to you and your audience/fans. There are plenty of ways you can maximize your growth but we'll save those for a later time. Right now, start liking, commenting and following relatable accounts with similar content that defines you and your target audience.
Engage, Engage, Engage… and Stay Consistent
Have you noticed, the most successful social media accounts belong to artists and brands that engage with their audience?!

Not only do they engage but these accounts are consistent in terms of content and how frequent post. Many will tell you CONSISTENCY is key. Engaging with your fans means, responding to their questions and being present when people communicate with you. You may not be able to respond to each and every question or comment but its important to interact and engage in the conversation. The least you can do is "heart" their comment. This shows your fans that you care and appreciate them for following you. Something as simple and as tiny as that can earn you a life long fan. You're just simply acknowledging that they are there.

S o, communicate WITH your fans and show them you truly care and appreciate them.

Social Media and Music are very interestingly similar in that they both revolve around connecting people.

Music connects people and Social Media so happens to be the best vehicle to spread the love of music and opens up opportunities for your art to be discovered. The most impactful brands/artists know how to leverage their art within the social sphere and use these platforms to connect and share their art with the world.

Now that you've gained some basic knowledge on how you can improve your social media presence. I suggest you start strategizing your come up. Learn more about your fan base, create an aesthetic for your brand, stay consistent and make necessary adjustments along the way.

If you have any questions feel free to hit us up and don't forget we got tons of content here that will you with your growth!  
See y'all later!
PEACE,
IDK

Sample Block Quote
Praesent vestibulum congue tellus at fringilla. Curabitur vitae semper sem, eu convallis est. Cras felis nunc commodo eu convallis vitae interdum non nisl. Maecenas ac est sit amet augue pharetra convallis.
Sample Paragraph Text
Praesent vestibulum congue tellus at fringilla. Curabitur vitae semper sem, eu convallis est. Cras felis nunc commodo eu convallis vitae interdum non nisl. Maecenas ac est sit amet augue pharetra convallis nec danos dui. Cras suscipit quam et turpis eleifend vitae malesuada magna congue. Damus id ullamcorper neque. Sed vitae mi a mi pretium aliquet ac sed elitos. Pellentesque nulla eros accumsan quis justo at tincidunt lobortis deli denimes, suspendisse vestibulum lectus in lectus volutpate.